New GeForce RTX 40 Series Studio Laptops, Omniverse Updates Accelerate AI-Powered Content Creation 'In the NVIDIA Studio'
The future of content creation was on full display today during NVIDIA's virtual special address at CES.
Fueled by powerful NVIDIA RTX technology and backed by the NVIDIA Studio platform for creators, a creative revolution is underway as a wave of 2D artists moves to 3D, video workflows move to real time and AI tools help artists create content faster.
For them, and the 110 million professional and hobbying PC creators, there's NVIDIA Studio. It's a platform for content creators that supercharges 110 creative apps with RTX GPUs, provides lasting stability with NVIDIA Studio Drivers, and includes a powerful suite of Studio apps — Omniverse, Canvas, Broadcast and RTX Remix.
Creators can access all of this with any RTX GPU, including the new 40 Series laptops and GeForce RTX 4070 Ti graphics cards, powered by the ultra-efficient Ada Lovelace GPU architecture, which were introduced today at CES.
The heartbeat of the Studio platform lies in NVIDIA Omniverse, a platform where creators can connect their 3D apps and collaborate in real time. Omniverse is expanding with Blender enhancements, a new suite of experimental generative AI tools for 3D artists and thousands of new, free Universal Scene Description (USD) assets available in the content browser in Omniverse Create.
Built on Omniverse, NVIDIA RTX Remix is a free modding platform to quickly create mods for classic games with full ray tracing, enhanced materials, DLSS 3 and NVIDIA Reflex. We've enabled two amazing community modders to bring RTX to Portal's most famous mod, Portal Prelude, preserving the timeless gameplay, while relighting it with full ray tracing.
The NVIDIA Broadcast and Canvas apps, also in the exclusive Studio software suite, have upcoming upgrades. Broadcast is adding a new Eye Contact feature, and Canvas will introduce 360-degree images that can be used as environment maps in 3D apps.
Coming to GeForce RTX 40 and 30 Series GPUs next month, the RTX Video Super Resolution feature uses AI to improve the quality of any video watched in a browser by removing blocky compression artifacts and upscaling video resolution. This improves video sharpness and clarity, and lets people watch online content in its native resolution on high-resolution displays. RTX Video Super Resolution will be available in February for Chrome and Edge browsers.
And to celebrate CES, influential Blender artist CG Geek will take on a three-day design challenge, powered by NVIDIA Studio technologies. Plus, explore how seven freelance artists from across the world created an experimental short film together, in real time, using Studio hardware, Omniverse and the Nucleus Cloud — this week In the NVIDIA Studio.
From Concept to Completion, Faster With New NVIDIA Studio Laptops
GeForce RTX GPUs provide massive speedups in 3D, video and broadcast workflows, as well as a myriad of AI tools, thanks to dedicated ray tracing, AI and video-encoding hardware. New Studio laptops with GeForce RTX 40 Series Laptop GPUs use the NVIDIA Ada Lovelace architecture — with support for DLSS 3, AV1 and more — and fifth-generation Max-Q technologies for maximum performance and efficiency.
The new laptops provide a quantum leap in performance over the last generation, and a massive boost in efficiency that allows OEMs to include more powerful GPUs in thinner, more portable systems. NVIDIA Studio laptops are purpose-built for creators, with the right combination of hardware for creative workflows, color-accurate displays, and preinstalled Studio Drivers and Studio software.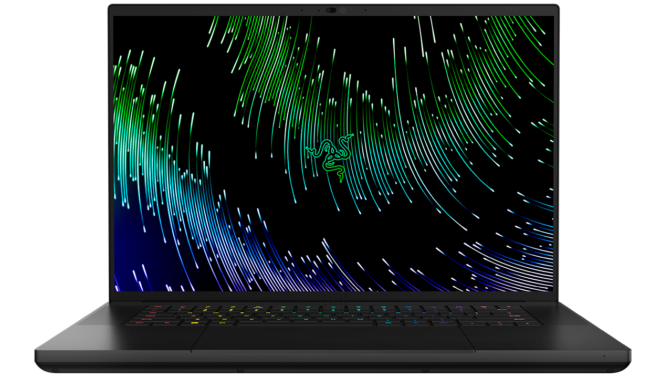 The instantly recognizable Razer Blade laptop gets an RTX 40 Series upgrade with up to a GeForce RTX 4090 Laptop GPU. The 16-inch, HDR-capable, dual-mode, mini-LED display boasts 1,000 nits peak brightness, which pairs nicely with a Creator mode that enables sharp, ultra-high-definition native resolution at 120Hz.
MSI's Stealth series will launch with a wide range of Studio options. With 14- to 17-inch models and up to GeForce RTX 4090 Laptop GPUs, creators can pick the laptop that best suits their needs.
The increased efficiency of RTX 40 Series Laptop GPUs and fifth-generation Max-Q Technologies deliver high performance to laptops as slim as 14 inches, with up to GeForce RTX 4070 Laptop GPUs, a new milestone. The ASUS Zenbook Pro 14 OLED is one example, with a GeForce RTX 4070 Laptop GPU in a super-thin 14-inch design, and accompanied by an all-new, cutting-edge 2.8K 120Hz OLED NanoEdge Dolby Vision display.
GeForce RTX 4070 Ti: 40 Series Benefits and Faster Than a 3090 Ti
For artists who prefer to create from their desktops, the new GeForce RTX 4070 Ti graphics cards, available starting Thursday, Jan. 5, offers incredible performance that's up to 15% faster than a GeForce RTX 3090 Ti in 3D rendering. Like the RTX 4090 and 4080, the newest RTX 40 Series GPU features dual AV1 video encoders. When enabled in top video-editing and livestreaming apps — such as Adobe Premiere Pro (via the Voukoder plug-in), DaVinci Resolve, OBS and Jianying — export times are cut in half with improved video quality.
3D creators see up to a 70% increase in performance compared to the GeForce RTX 3070 Ti in popular apps like Autodesk Maya, Blender, Chaos V-Ray, Epic Games Unreal Engine and Unity. Users can also unlock creative freedom by unifying 3D assets, libraries and tools in Omniverse.
And all creators can benefit from the new fourth-generation Tensor Cores for AI tools, providing up to 2x increased performance compared to the previous generation.
The January Studio Driver, supporting the GeForce RTX 4070 Ti launch, will be available for download later this week.
Create Easily With Studio Software
NVIDIA RTX GPUs unlock exclusive software for creators: Omniverse, RTX Remix, Canvas and Broadcast. They're all getting upgrades early this year.
Based on the USD framework, Omniverse enables artists to connect their favorite tools from Adobe, Autodesk, Epic Games, SideFX and more. Creators can see their scenes instantly come together without lengthy import or export cycles. Changes happen in real time across the connected apps — whether a single artist is working in multiple apps simultaneously or collaborating with another artist from across the globe.
The Blender alpha branch release, part of a series of updates to Omniverse, is now available in the Omniverse Launcher. It enables users to repair geometry, generate automatic UVs and decimate high-resolution CAD data to more usable polycounts.
Performance updates to Audio2Face, Audio2Gesture and Audio2Emotion — powerful AI tools within Omniverse — better enable instant, realistic animation of characters. The AI ToyBox of experimental tools is now available in the Omniverse Extension Manager. Thousands of new, free 3D assets have also been made available worldwide for users to build and create within Omniverse.
RTX Remix, which is built on Omniverse and was used to create the jaw-dropping Portal with RTX, is approaching its early-access release. Nicolas "NykO18" Grevet — the original creator of Portal: Prelude — is using RTX Remix to remaster his unofficial Portal prequel from 2008. Grevet is working with modder David "Kralich" Driver-Gomm to modernize the assets and relight the game with stunning, full ray tracing. Portal: Prelude RTX will soon become free to download from mod sites like ModDB and Nexus Mods.
Canvas allows creators to paint by material, rather than color, using simple brushstrokes and AI to quickly conceptualize a beautiful image. Canvas is getting a new 360 image feature, which will become available in an upcoming free update for RTX users, helping artists create panoramic scenes and export them into any 3D app to use as an environment map. Such maps are used to change the ambient lighting of a 3D scene and appear in reflections for added realism.
Later this month, Broadcast will add a new Eye Contact feature that can change the position of the subject's eyes to appear focused on the camera, as well as a new vignette effect. The update also improves the popular virtual background feature, adding temporal information for increased stability. The virtual background improvements can also be found in the recent OBS Studio 29.0 software release, and will be updated SDKs for developers later this week.
3D Need for Speed
To showcase the speed at which Studio creators flow, talented 3D artist CG Geek has been challenged to create an animated Blender scene during CES. He'll have just three days, starting Thursday, Jan. 5, to blitz through tough, typically time-consuming tasks.
He's equipped with a GeForce RTX 4090 GPU, RTX acceleration and AI features throughout his entire workflow.
Follow his progress on his YouTube channel or NVIDIA Studio profiles on Instagram and Twitter. Look for the final render and a deep dive on his process in next week's In the NVIDIA Studio blog.
In the NVIDIA Studio With Omniverse
Several 3D creators, including In the NVIDIA Studio artist Jae Solina, are showcasing the collaborative elements of Omniverse. Ashley Goldstein, Edward McEvenue, Jeremy Lightcap, Pekka Varis, Rafi Nizam and Shangyu Wang joined Solina — each using their favorite 3D tools, NVIDIA Studio laptops, new GeForce RTX GPUs and Omniverse Nucleus Cloud — to build an experimental short film together in real time.
The group started by pulling in a pair of Nizam's characters: "3D" built in ShapesXR and "Figgy" in Maya. Both were dropped into Omniverse seamlessly as USD files. Prompted by Lightcap, Nizam added knitted textures to "3D" using Adobe Substance 3D Painter, and the group immediately saw this through the cloud.
Solina then offered to help with motion capture using Xsens. As he added the rigging, Lightcap brought in a background created in Blender. Lightcap noted that "RTX is insane," as his animated western landscape rendered nearly instantly.
With the scene coming together, Varis changed lighting elements, looking to make things "more epic," he said. To incorporate a storm into the scene, McEvenue added a rain simulation created in Houdini. The film's characters make a quick escape, hijacking the hot air balloon of Toy Jensen, the AI avatar of NVIDIA founder and CEO Jensen Huang.
For the ascent, Goldstein used her GeForce RTX 4090 GPU to add steam thrusters using OmniGraph.
With the characters now in outer space, Wang imported a satellite created in Autodesk Maya. The scene concludes as the space adventurers take off for Jupiter.
While showcasing their talents, these 3D artists displayed the capabilities of the NVIDIA Studio platform. Powerful RTX GPUs, acceleration in popular 3D apps and exclusive Omniverse software that enabled collaboration from all over the world in real time.
The future of creativity is shining bright. And the NVIDIA Studio ecosystem is lighting the scene.
Download monthly NVIDIA Studio Drivers for the latest reliability and performance improvements. Access tutorials and more on the Studio YouTube channel; follow Studio on Instagram, Twitter and Facebook; and get updates directly in your inbox by subscribing to the Studio newsletter.